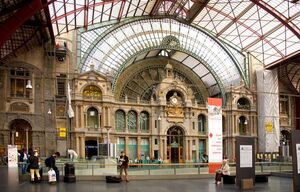 Alameda Station is a train station in El Centro, San Serena, that is currently the largest train station in Prasia by passenger numbers.
The station is currently served by both lines of the San Serena Metro, as well as TAV high speed rail services to Adahuesca, San Ramon and Guadajoz. Furthermore, an express rail service between the center of San Serena and San Serena International Airport from this station.
Alameda Station also has many passenger facilities, including a small shopping arcade with shops, restaurants and bars.