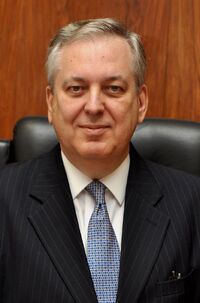 Marcos Pinilla Calderón (born June 18, 1956) is a Prasian politician, who is currently the leader of the Conservative Centrist Party, the largest opposition party in Congress.
Pinilla was born in Villa Mateo, San Luis into an upper middle class family of Italian and Argentinian descent. Pinilla studied Law and Political Science at the Universidad de San Luis and qualified as a lawyer in 1978. Pinilla left the profession in 1987 to pursue a political career with the Conservative Centrist Party, which he had supported since his youth. Pinilla quickly rose through the ranks to become a senior figure in the party, mainly becoming active in his hometown of San Luis.
In 1995, Pinilla became a councillor in the Ayuntamiento de San Luis and in 1998, he became the city's mayor. After serving one term in this position, Pinilla was elected as a deputy in the House of Representatives at the General election, 2005, in which the Social Democratic Party won power from the Conservative Centrists, led by Pilar Ortiz. Pinilla was part of Ortiz's internal faction and despite her resignation, managed to hold several senior posts within the opposition, becoming the party's spokesperson on Finance and Trade.
In 2008, Jorge Fuentes Robles, Ortiz's successor, was ousted by the party and Pinilla was elected as party leader in the ensuing leadership election.