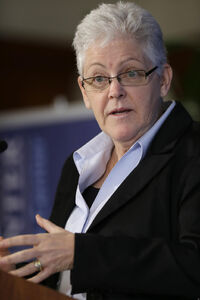 Pilar Estefania Ortiz (born September 30, 1939) is a Prasian politician, who was the Prime Minister between 1995 and 2005 and the leader of the Conservative Centrist Party between 1991 and 2005. Ortiz was born in San Luis to Chilean parents.
Ortiz's time as Prime Minister marked a time of key changes for the Conservative Centrist Party. At this time, Ortiz was seen as the driving force behind modernisation of the party, which won her admiration from across the political spectrum and saw her win a landslide victory in the General election, 2000. Other policies throughout her time as Prime Minister included health care and housing reform, construction of new infrastructure and closer foreign relations with the United States. Her time as Prime Minister also shaped an intense rivalry between her and Ana Maria Martin, who would succeed her as Prime Minister.
After retiring from politics in 2008, Ortiz largely retired from public life to spend more time with her family, but still makes frequent public speaking appearances.