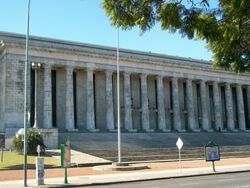 Universidad de San Luis (UDSL) is a public research university in Villa Elisa, San Luis. The university was founded in 1848 and is the largest university in Prasia. The university was the first university to be founded in Prasia and has been a secular university since its foundation.
The university's main campus is located in Villa Elisa, a borough of San Luis, although there are several smaller buildings and teaching institutes located elsewhere in the city. The university is also consistently ranked at the top of national league tables.
Main campus
Edit
The majority of the university's buildings and facilities are located on the main campus in Villa Elisa, San Luis. Many of the buildings on the campus date from the early 19th century when the university was first built, including the university's three libraries, as well as the teaching facilities for arts, humanities and social sciences.
Also situated on the northern boundary of the campus is the Estadio Universitario, which as well as being a facility used by the university for athletics and football, is also the home of football team Universidad de San Luis UD. However, the club is now independent of the university and shares the stadium's lease with the university. Several other sports facilities are located near the stadium, including tennis courts and a large indoor aquatics center. Both these facilities were opened in 2009 and have crowd capacities of 5,000 and 8,000 respectively, as well as training facilities.
The campus is also home to several public spaces, including squares and parkland. In addition, the majority of student housing is on the campus, as well as several shops, banks and bars.
Other sites
Edit
Other facilities on the main campus include teaching facilities for medicine, dentistry, nursing and biomedical science, as well as the university's main teaching hospital.
Academic programs
Edit
Faculty of Arts and Humanities
Edit
History
History of Art
Spanish
Philosophy
Geography
Journalism
School of Foreign Language and Culture
Edit
English
French
German
Italian
Portuguese
Translation and Interpretation
Faculty of Sciences
Edit
Biology
Chemistry
Physics
Mathematics
Earth Sciences
Life Sciences
Mathematics
Dentistry
Medicine
Nursing
Biomedical Sciences
Engineering
Sport Science
Faculty of Social Sciences and Law
Edit
Social Anthropology
Social Work
Economics
International Relations
Political Science
Psychology
Sociology
Education
Law
Partner universities
Edit
UDSS is partnered with numerous universities worldwide. Several of these universities are in Latin America, Spain and Traspes (Universidad de Alcacer), as well as many more in the United Kingdom, United States, Canada, Australia, France, Japan, Italy, Libertas (Vrije Universiteit van Wikistad) and Portugal. Links with these universities facilitate study abroad programmes and exchanges for language students from both universities, many of which are sponsored by the Instituto Aguirre.